All the plants continue to grow , and a lot better than expected! (mostly if compared to the catastrophic soil test result i made a few months ago).
Besides a "lettuce cutting" accident (just after the first week), for now i have a close to 100% rate of germination.
So we have:
in the back row (from close up to distant)

Parlsey
Chives
Mentha
And two rockwool cubes with lettuce

in the front row :
The Parlsey took its time, but is now the most developped : besides a few health stems and primary leaves, it is the only one so far with roots hanging out of the rockwool cube.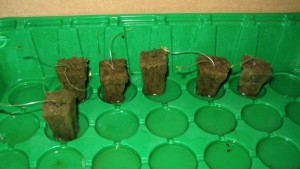 A small comparaison:  this was at day 11: